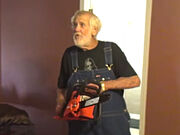 Pearl is the name of one of Angry Grandpa's chainsaws. Bridgette bought it for him in August of 2015 in preparation for a prank on Michael.
In a vlog of posted on the KidBehindACamera channel, Grandpa cuts his thumb with the chainsaw, causing Michael and Bridgette to threaten Grandpa to take it from him. It took six stitches to close up the wound. During this time, it caused a lot of difficulty in Grandpa's everyday-life.
Ad blocker interference detected!
Wikia is a free-to-use site that makes money from advertising. We have a modified experience for viewers using ad blockers

Wikia is not accessible if you've made further modifications. Remove the custom ad blocker rule(s) and the page will load as expected.