The Gaboon Viper is a species of a snake found in Sub Saharan Africa and the Sahel.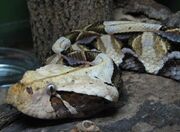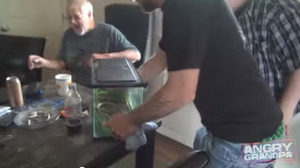 A Gaboon Viper recently made headlines when one was found in Mount Pleasant, South Carolina, which is only a few miles away from Charleston, and where Angry Grandpa is filmed. Angry Grandpa uploaded a Vlog were he was hunting for the creature in his yard. There have been very few AGP videos since due to safety hazards. But recently, Pickleboy pulled a prank on Angry Grandpa. Michael placed a fake snake in a glass jar, and claimed it was the Gaboon Viper. While investigating, the snake "bit" Michael, which caused him and Angry Grandpa to go into a frenzy. Soon after, Angry Grandpa went ballistic and broke the jar, and many other objects on his front porch. Michael then scared Charlie, saying it was a prank. This only increased Grandpa's chagrin. He destroyed more objects in the house before faking a heart attack. A few moments after Grandpa awakes, the video ends.
Ad blocker interference detected!
Wikia is a free-to-use site that makes money from advertising. We have a modified experience for viewers using ad blockers

Wikia is not accessible if you've made further modifications. Remove the custom ad blocker rule(s) and the page will load as expected.