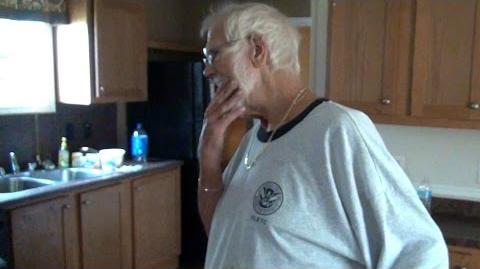 "GRANDPA SAYS GOODBYE" is an episode of Angry Grandpa. In the video, Grandpa does a final walk through of the old trailer, saying goodbye as they reminisce on the memories they created.
Trivia
This video is similar to the GrandpasCorner video "Angry Grandpa Says Goodbye..." where Grandpa did the same thing to his old trailer back in 2012.
This is the last video to take place on the New Trailer. The next video will see Grandpa in his new house in "SURPRISE PARTY MELTDOWN!!".
This is the last video of AGP's Creekside Era.
This video uses clips from the previous videos from Angry Grandpa and KidBehindACamera.
Ad blocker interference detected!
Wikia is a free-to-use site that makes money from advertising. We have a modified experience for viewers using ad blockers

Wikia is not accessible if you've made further modifications. Remove the custom ad blocker rule(s) and the page will load as expected.