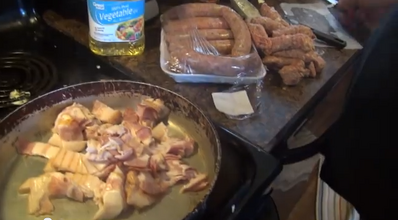 Read more at the separate article for Cooking with Grandpa.
Cooking
Despite being on a low budget, Angry Grandpa loves to cook. Grandpa cooked many things in his videos (List below). Charlie typically makes combinations of foods, such as bacon wrapped candy bars, and he encourges his fans to do the same. During filming, Pickleboy usually sets Grandpa off, making him rage, which typically makes Grandpa destroy the food.
Angry Grandpa has a sweet tooth. He loves to cook anything with candy...and bacon. In a majority of his videos, he will coat, wrap, stuff, or make anything with bacon.
Pickleboy loves to cook with Bridgette. He vlogs and cooks at the same time. In the end of all Cooking with Pickleboy videos, he describes what it tastes like.
There are a few instance where Angry Grandpa fails at finishing, like the time where Angry Grandpa tries to make Poor Mans Lasagna with cheese that is old and stale, and Pickleboy tells him not to and keeps tying to get him to take the cheese out, which only makes Angry Grandpa destroy the lasagna in a ballistic furious rage. Another instance is where Angry Grandpa makes beef stew but Pickleboy thought that there was too much salt in it prompting Angry Grandpa to throw the stew in the toilet. Another insolent was when grandpa tried to make hamburger pie. When he put it in the oven he decided to take a nap leaving the pie in the oven to burn for over an hour. Then he decides to take it out of the oven with his bare hands therefore burning his hands and dropping the pie all over the floor. Then he rages and stomps in the stemming hot food on the floor and burns his feet. One time grandpa decided to make christmas cookies. It went well for a second but then it backfired on him when he found out he was being pranked into getting tina to taste test the cookies. Then they prank grandpa into believing tina was allergic to eggs causing him to go ballistic.
List of Cooking Videos
Here is a list of Angry Grandpa and Pickleboy cooking videos:
Chili Cheese Nachos
Poor Mans Lasagna (failed)
Trailer Park Breakfast Lasagna
Fried Chicken Sandwhiches
Bacon Wrapped Fried Candy Bars
Angry Meal Time! (A Bunch of Food)
Bacon Wrapped Stuffed Chicken
Trailer Park PIZZA!
Trailer Park Poundcake (failed)
Grillin' Out
Bacon Wrapped Chicken Tenders
Bacon, Burgers, Brats
Cooking w/ Grandpa: Chinese Food!
Beef Stew Blowout! (failed)
Sticky Turkey Wings
Bacon Wrapped Fried Fish
Thanksgiving Fail (2013)
Pizza (Michael)
Smores
Lasagna (Michael)
Sugar Cookies (Bridgette) (failed)
Pizza (failed)
Chinese Food (Pickleboy) (failed)
Hamburger Pie (Failed)
Christmes Cookies (Failed due to prank with Pickleboy and Tina)
Sweet Potato Pies (failed, due to Michael believing it's a prank)
Trivia
During his Sliders video, Michael says that Grandpa has a great recipie for Onion Rings, however, the recipe has never been shown