Charles Green (Angry Grandpa)
Comments

76
84pages on
this wiki
Angry Grandpa

Angry Grandpa during the paranormal activity prank.

Gender:

Male

Age:

63
Information

Family:

Michael Green (Younger Son)
Tina (Ex-Wife)
Aunt Charlene † (Older Sister)
Jacob (Grandson)
Johnny (Grandson)
Jimmy (Grandson)
Lily (Granddaughter)
Jay (Grandson)
Charles M. Green † (Father)
Dorothy Green † (Mother)
Charles Green III (Older, Son)
Kimberly Green (Daughter)
Jennifer Green (Daughter)

Relationship Status:

Single, divorced with Tina

Religion:

Christian

Occupation:

Retired and a Youtuber

Residence:

South Carolina

Likes:

Candy, Cooking, Fish, Vlogging, Smoking, Twitter, Having sex, Pranks, His Fans, Sub Station II

Dislikes:

What Angry Grandpa Hates ("everything")

Nicknames:

AG, AGP, Charlie (Tina), Big Man (Tina (Neighbor)), Dad (Michael), Pop (Michael)
Description
Charles Green, also known as the Angry Grandpa (b. October 16, 1950), is the title character and the main antagonist of the Angry Grandpa series. He has a bipolar disorder which causes him to throw into fits of rage and destroy appliances and furniture in his trailer (old and new), often blaming Michael "Pickleboy" Green, his son, for his destructive behavior, claiming he angered him. His mother was Dorothy M. Green (March 18, 1926 - December 25, 1999 6:00 AM), who had died of a heart attack on Christmas morning. His father Charles M. Green Sr. (January 25th, 1925 - July 6th, 1987) was a Sargent in the US army in World War II.
The show originally began around 2009 in a video where he tells his grandchildren that there is no Santa Claus. The original account has since been suspended, but later returned as The Angry Grandpa Show on YouTube.
His temper tantrums are more often than not triggered by: Bridgette West eating his candy, Michael Green pranking him, his ex-wife Tina feeding the cats under the trailer, and anything that doesn't smell or function properly. He's passionate about his candy and will destroy $5,000 worth of appliances to assure his candy makes it to his swollen stomach.
He sometimes appears to have a slight remorse after destroying objects. After he breaks a wall in his house, he says, "What have I done?" and "How can I be so stupid?" He said similar things after he broke his dentures. He is also known to blame Pickleboy for his outrages, mostly because he causes them.
Tina and Charles Divorced (January 6, 2012) over him talking to a female fan on Skype. He has also got mad at Ray William Johnson for calling him Santa Claus and fake and got banned at all the Walmarts in his area, McDonalds, local pizza places and a gas station (by thinking he got the winning lottery ticket but it was one of Michael's pranks).
Grandpa claims that he has given up eating sweets.
Quotes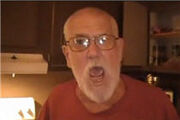 Trivia
His mother died on Christmas morning.
His father got into an accident and was paralyzed 2 weeks before Christmas.
His sister died  two days after Christmas.
Smoking
Divorce Story