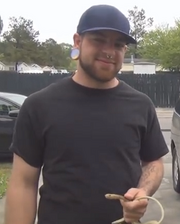 Ben is a minor character on The Angry Grandpa Show.  He participates in a prank with Michael to make Angry Grandpa think that they caught the deadly Gaboon Viper snake (that has been seen in South Carolina) in his yard.  He is a supposed "snake handler".  After the prank was executed, it was revealed that he is a fan and isn't a snake handler.
Quotes
"Got the Gaboon Viper in there I think...I think"
Appearances
Ad blocker interference detected!
Wikia is a free-to-use site that makes money from advertising. We have a modified experience for viewers using ad blockers

Wikia is not accessible if you've made further modifications. Remove the custom ad blocker rule(s) and the page will load as expected.