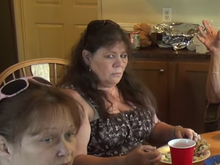 Barbara West (born in ????) is Bridgette's aunt. She was mentioned in Michael's vlog Grandpa Ruins Father's Day - Aftermath where she "gave Grandpa new moves" in Grandpa's much loved game Candy Crush. She first appeared on camera during the family drama between Michael and Grandpa about the tattoos in GRANDPA FLIPS OUT! (PICKLEBOY WRECKS DINNER!). She is also a sister in law to Doug. It is also possible that she has a husband which is Doug's brother, and it is also possible that Barbara and her husband has kids which are one of Bridgette's cousins. Further information is unknown.
Ad blocker interference detected!
Wikia is a free-to-use site that makes money from advertising. We have a modified experience for viewers using ad blockers

Wikia is not accessible if you've made further modifications. Remove the custom ad blocker rule(s) and the page will load as expected.